Hutchinson, who previously held the position of Research Associate, will start his new role as Athlete Services Manager (Classification) in the new year after a fruitful seven years at the University.
During his time at the PHC Michael supported a number of key projects including studies that have advanced the knowledge around using 'Ratings of Perceived Exertion' to regulate exercise intensity during upper body exercise as part of his PhD, which have continued with recent publications applying to more specific populations such as the application to persons with a spinal cord injury.
In terms of Para sport, Michael was part of the Para canoe classification project with our partners in Sweden and has since led a project to develop minimum impairment criteria for wheelchair basketball, collaborating closely with the International Wheelchair Basketball Federation. The project contributed to re-inclusion of wheelchair basketball in Paris 2024 Paralympic Games.
In the lead up to last summer's Paralympic Games in Tokyo, he assisted ParalympicsGB with the planning and delivery of its Performance Services as the team secured 124 medals in Japan.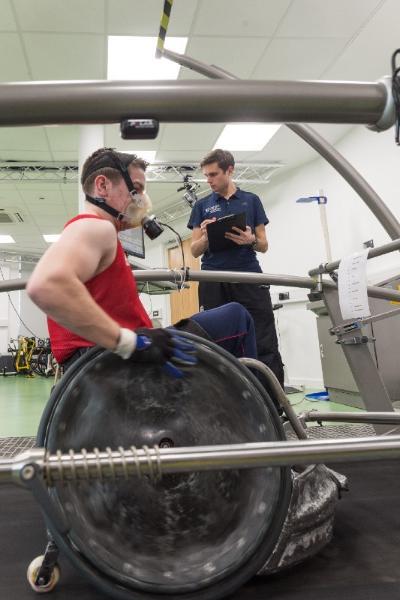 D‌r Hutchinson working in the PHC. This photograph was taken prior to the coronavirus outbreak.
After attending his first Paralympic Games in London in 2012, he will play a crucial role in supporting ParalympicsGB's athletes as attention turns to Paris 2024 and beyond.
On his new role, Michael said:
"I am sad to be leaving the PHC after seven years but can look back upon some fantastic experiences with a great group of people.
"That being said, I am excited for the challenge of my new role at the BPA and can't wait to get started. Much of my research in the past couple of years has been in classification for Para sport and I look forward to continuing working in this area within a new organisation.
"I would like to thank Vicky for all her support and mentorship during my time at Loughborough University, and all members of the PHC both past and present who helped make it such a memorable experience."
Vicky Tolfrey, Professor in Applied Disability Sport and Director of the Peter Harrison Centre for Disability Sport, added:
"Mike has been a great team player of the PHC. Over the last few years, he has worked hard to ensure our partnerships with sports, other academic groups and other key stakeholders both nationally and internationally provide mutual benefit.
"I wish Mike all the very best in this new role with the BPA, which I know is he is very passionate about. I am therefore very pleased that Mike will continue to work in Para sport."
For more information on Loughborough's Peter Harrison Centre for Disability Sport, visit its dedicated website HERE.