Loughborough's new waste strategy for 2020-2025 documents key historical waste and recycling performance and achievements, as well as identifying our waste management strengths and weaknesses. In addition, it lists the opportunities for improving our waste management approach and the potential barriers to achieving these.
The strategy sets out the ambition, vision and strategic objectives for the next five years, which are based on our legal obligation to adhere to the waste hierarchy.
Effectively managing our resources also forms part of the University's wider strategy to 'embed sustainability and social responsibility into all our processes, operations and developments', and supports the UN Sustainable Development Goals which the University signed up to earlier this year.
Below is a chart labelling the eight parts of the waste hierarchy, in order of the best option environmentally (A - Prevent) to the worst (H - Landfill). Take some time to study this and see how environmentally friendly your everyday lifestyle is.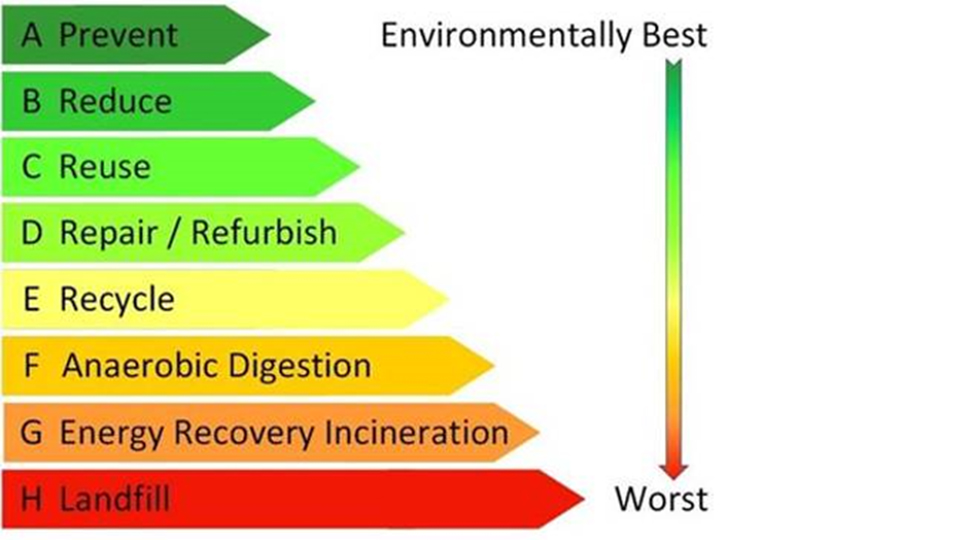 To help deliver the new strategy, the Sustainability team has identified nine goals which have been summarised below and require the help of both staff and students in order to be successful:
Goal

How you can help

1. Reduce waste and encourage recycling by removing bins under desks, starting in Hazlerigg, Rutland, FM, Geography and ATIC buildings

Staff: Please use communal recycling bins and correctly segregate your waste and recycling.

2. Reduce food waste in catered halls by establishing a task force to lead on a campaign

Students: Please don't pile your plate high to avoid food waste, as you can always go for seconds!

3. Reduce the use of disposables in retail and catering outlets

Everyone can eat in using crockery and cutlery where this is available, but also carry reusables such as a water bottle and a coffee cup.

4. Raise awareness of campaigns by engaging with individual buildings across campus to make local improvements

Get involved and consider how can we better apply the waste hierarchy in your area?

5. Increase reuse of equipment with the Kit Catalogue and WARPit

Staff: Please check existing equipment and second-hand resources on campus before buying items new, and list resources you no longer need.

6. Improve recycling in halls of residence to 40% by 2025

Students: Read the recycling posters in your kitchens, get involved with the FREEC (Food, Residential, Ethics and Environment, Campus watch) reps and read the guide on the Sustainability's website.

7. Increase communication and raise awareness of the waste hierarchy

Visit the Sustainability webpages to read more about the waste hierarchy and implement this into your routine.

8. Increase food segregation options in academic buildings by introducing the use of food caddies

Staff: Reduce the amount of food waste you produce and use the food caddies where possible instead of throwing food into other bins.

9. Reduce waste generation at source by engaging with the procurement process, especially packaging from deliveries

Staff: Consider this not only when buying, but also as part of your own daily activities.

Try to reduce waste by reducing printing, choosing less resource-intensive options, using reusables, shopping more sustainably and refusing freebies.

Not only is reducing our waste and use of resources – as well as recycling regularly too – important for the environment, it is also important financially for the University.
Environmental Manager Nik Hunt commented: "Managing waste on a site as large as Loughborough's with nearly 25,000 users is very challenging, and this new strategy seeks to raise awareness of the ongoing improvements required and the role staff, students and other key stakeholders have in delivering this.
"We are trying to reduce waste as much as possible, but we encourage everyone to reduce, reuse and recycle better for the benefit of all, now and in the future."
A full version of the 2020-2025 Waste Strategy can be viewed here.