// University News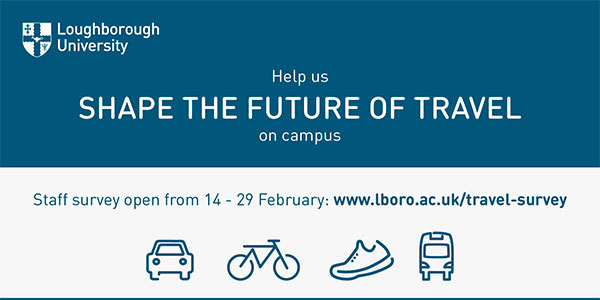 Travel survey now live
The University's travel survey, to find out your views and opinions on the future of transport to and around the Loughborough campus, is now live.
The survey is part of the University's commitment to creating a healthy, sustainable environment that is accessible for everyone. It includes questions on car use, cycling, public transport and pedestrian access around campus. The findings will help us to assess current travel patterns and anticipate longer-term trends.
The survey will run until 29th February and is open to all University staff based on the Loughborough campus and employees of campus-based partner companies. Students will be invited to have their say through a separate survey later in the year.
The online survey, which is compatible with mobile phones and tablets, should take around five minutes to complete.
If you complete the survey you can opt to be entered into a prize draw to win one of ten £10 Amazon gift vouchers.