// University News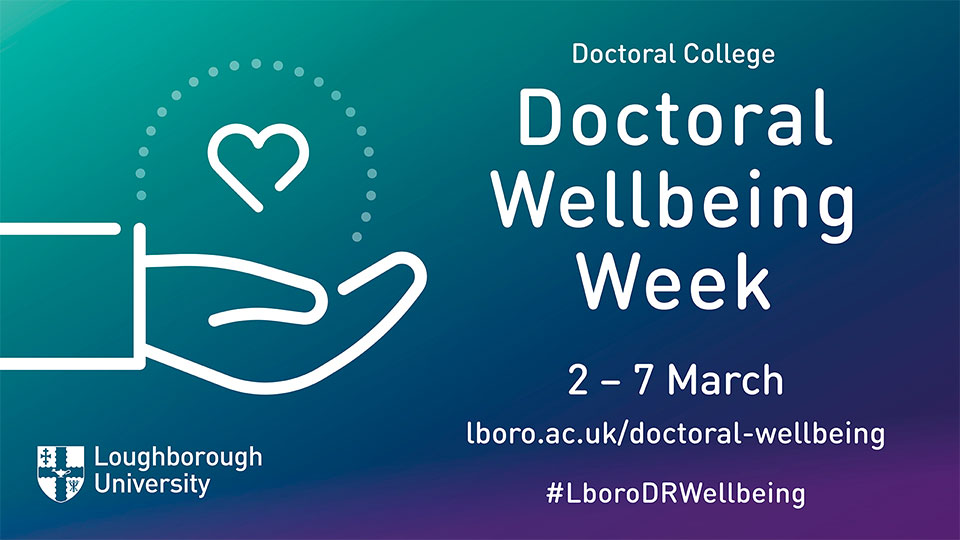 University to hold its first ever Doctoral Researcher Wellbeing Week
Loughborough University has announced its first Doctoral Researcher Wellbeing Week, taking place 2-7 March to coincide with University Mental Health Day.
Aimed at doctoral researchers and those on the frontline of doctoral researcher support, this vibrant and comprehensive event will contain a diverse range of developmental workshops and activities to provide practical ways of enhancing doctoral wellbeing.
The event will feature over 40 sessions covering a wide variety of topics, including:
Beating impostor syndrome
Procrastination
Sleep management
How to be assertive
Taking control of your finances
There will also be energetic and motivational keynote presentations from Loughborough alumni and Art of Brilliance representatives Dr Andy Cope and Sanjeev Sandhu, which are open to doctoral researchers and staff.
Event organiser and VC Award of Excellence recipient, Dr Katryna Kalawsky from the Doctoral College commented: "At Loughborough, we recognise and value the vast contributions that doctoral researchers make to the institution and beyond.
"To enable our doctoral researchers to achieve their full potential, we need to take a proactive approach to support and enhance doctoral wellbeing.
"The event is a huge collaborative effort with input from teams across the University as well as external organisations. We hope the week will increase awareness of the various support services available, but also that it equips our doctoral researchers with an extensive array of practical skills that they can apply throughout their doctorate."
The session topics are aligned to Loughborough University's definition of wellbeing and chosen in direct response to doctoral researcher feedback and evidence from a growing body of literature.
Associate Pro Vice Chancellor (Doctoral College), Professor Elizabeth Peel said: "I am delighted that Katryna has used funding from the VC Excellence Award to organise the University's first Doctoral Researcher Wellbeing Week. Supporting wellbeing is hugely important to the successful and timely completion of doctoral research.
"Equally as important, events such as this help to ensure that the whole doctoral journey, with its inevitable ups and downs, is rewarding, fulfilling and memorable.
"There are experiences during this week guaranteed to excite and inspire our doctoral researchers and colleagues. I strongly encourage you to participate and enjoy."
Vice-Chancellor Professor Bob Allison commented: "Studying for a doctorate is a major undertaking with many challenges and pitfalls. Supporting the wellbeing of our research student community is as important as providing good and effective supervision. The programme organised by Dr Kalawsky is a step-change in the help we are offering, and I am personally looking forward to attending some of the talks."
For more information, including a full timetable and booking details, visit the dedicated website. To follow the conversation on Twitter, use the #LboroDRWellbeing hashtag.
Please note that there are limited spaces and that some sessions will be lecture captured for the benefit of those unable to attend in person.