// University News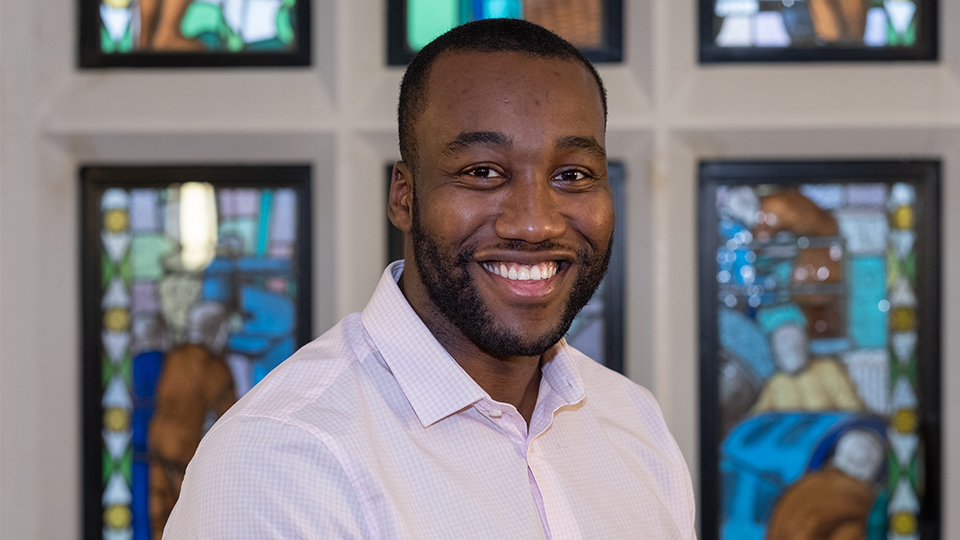 The Loughborough Graduate Programme: Q&A with trainee Musa Yusuff
Applications are now being accepted for the 2020 Loughborough Graduate Programme, an exciting three-year scheme consisting of at least four placements across various roles, services and Schools across the University.
We caught up with current trainee Musa Yusuff about his experience of the scheme so far and his tips for those who are thinking of applying.
What made you apply for the Graduate Management Scheme?
I applied to the graduate scheme due to my interest in education and higher education specifically, and to contribute to the positive impact a university can have on society.
Additionally, the opportunity to rotate around different services interested me before starting this scheme as it provided me with the chance to learn about the different roles and opportunities which are available at the University.
What was your background prior to this (eg your degree, any extracurricular activities you were or are involved in)?
I studied BA (Hons) Politics with a Minor (Economics). In terms of extracurricular activities, I was fortunate enough to play rugby and compete in National One and BUCS competitions.
What has been the most valuable thing you've learnt so far on the programme?
The ability to work with people inside and outside of the institution at all different levels, from executive members of staff to students. I've learnt to tailor my approach to each individual in order to achieve the best outcome from any given situation.
What have you enjoyed most about the programme?
There are two things I have really enjoyed about this scheme. Firstly, how diverse the offering at Loughborough can be. Fully learning how much the institution does has been really enjoyable. Having graduated in the summer of 2018, I remember how often I would walk around campus with no clue as to what went on in most of the buildings. But now I have knowledge of the range of activities which go on, from enterprise engagement to research activities. It's been really fascinating.
My second point would be the level of responsibility and the access I've had to the senior leadership team. I have had regular contact with the senior leadership team on a variety of projects, which has given me invaluable snippets on what it can be like leading a top academic institution and how to adapt your leadership style for a variety of situations. I have also had the opportunity to contribute to a project commissioned by the Vice-Chancellor and liaise with various key stakeholders across the institution, which I have found really interesting.
What would you say to a student or staff member who is considering applying for the scheme?
If you are interested in a career in higher education or are currently unsure as to which area you would like to work in, this scheme gives you a great opportunity to learn more about the current HE landscape, gain an insight into a variety of departments and services and also build up a skillset which will empower you to step into a leadership and management role.
Do you have any tips for anyone during the application process?
If you are unsure about something - whether that's writing your application or information about the assessment centre - feel free to call or email for clarification as it could save you a lot of time.
Be the authentic you; we all have different things which we excel at, so really allow that to come through during the application process.
If you would like to find out more information about the Loughborough Graduate Programme, check out the dedicated website which has a list of useful FAQs as well as a candidate pack and job description. The closing date for applications is Wednesday 26 February.