// University News
Team Lboro are stepping up to the BrainWalk challenge
We're now ten days into the BrainWalk challenge and Team Lboro have collectively taken an impressive 5,537,526 steps, meaning we're currently the second highest-ranked team!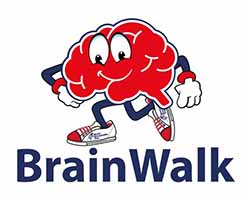 The BrainWalk, run by the Encephalitis Society, began on 31st January and runs up to World Encephalitis Day on 22nd February. It aims to raise awareness of and understanding about encephalitis.
Encephalitis is an inflammation of the brain. It is caused either by an infection invading the brain or through the immune system attacking the brain in error. Anyone at any age can get encephalitis. There are up to 6,000 cases in the UK each year and potentially hundreds of thousands worldwide.
To help us raise awareness of encephalitis, we need as many staff, students, friends and families to join together as Team Lboro to take part in the BrainWalk.
Lboro team member Flaming Katie is leading the way for the University with more than 250,000 steps, closely followed by Duckers74 who is only 523 steps behind.
It's not too late for you to sign up and make your steps count. You'll need to download the BrainWalk app from Google Play or the Apple App store. Register your details and sync with your FitBit or your phone's health data using the drop down menu in the app. Select to join an existing team, enter Team Lboro into the search and then when promoted enter the password Lboro2020. Then all you need to do is get walking.
Find out about more about encephalitis, the BrainWalk and other ways in which you can help on the Encephalitis Society website.