Our staff
Professor Robert Galliers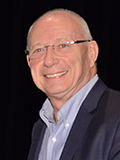 Visiting Professor of Information Systems
Bob Galliers is an Honorary Visiting Professor of Information Systems. He originally joined Loughborough on a fractional appointment as Professor of Information Systems for the period 2014-2017. He is University Distinguished Professor Emeritus at Bentley University in Boston, USA, having served as Provost during the period 2002-2009, and as the University Distinguished Professor subsequently, until his retirement in 2017. Bentley gained EQUIS and EDMBA accreditation under his leadership and AACSB and NEASC accreditations were reconfirmed in addition. Bentley is located on the outskirts of Boston, Massachusetts.
Previously, Galliers was Professor of Information Systems and Research Director in the Department of Information Systems at the London School of Economics (LSE). Before joining the LSE, Galliers served as Lucas Professor of Business Management Systems and Dean of Warwick Business School, and earlier as Foundation Professor and Head of the School of Information Systems at Curtin University in Australia. In addition to Loughborough, he holds or has held Visiting Professorships at the LSE; King's College, London; Brunel University; the Australian School of Business, University of New South Wales; Hong Kong City and Polytechnic Universities; University of St Gallen, Switzerland; University of the Witwatersrand, South Africa; National University of Singapore, the European Institute for Advanced Studies in Management, Belgium and INSEAD, France.

He serves on the international advisory boards of a number of business schools, including those at the University of Tilburg, The Netherlands; Turku University, Finland, and the National University of Ireland, Galway. He served on EFMD's EQUIS Accreditation Board for the period 2009-2016 and its Global Network Americas Advisory Board from 2014 to 2016. Additionally, he has served as a member of the Board of the Chartered Association of Business Schools' (CABS) Academic Journal Quality Guide since 2014. He also served and on the Guide's Scientific Committee as the nominee of the Association for Information Systems (AIS) from 2012 to 2016.
He holds an AB (honors) degree in Economics from Harvard University; a Master's degree with distinction in Management Systems from Lancaster University; a PhD in Information Systems from the London School of Economics, and an Honorary Doctor of Science degree from Turku School of Economics & Business Administration, Finland.

He is the editor-in-chief of The Journal of Strategic Information Systems; one of eight IS journals recognized for their quality by the Senior Scholars of the AIS. He is a Fellow of the British Computer Society (FBCS), the Royal Society of Arts (FRSA), and the Association for Information Systems (FAIS), of which he was President in 1999. He received the AIS LEO Award for exceptional lifetime achievement in Information Systems in 2012. He has been keynote speaker at more than 60 major international conferences and symposia including the European Conference on IS; the Australasian Conference on IS; the Scandinavian Conference on IS; the UKAIS Conference; and the Mediterranean Conference on IS.

He has had published approaching 100 articles in many leading international journals on information systems and management, and has authored or co-authored eleven books, including The Routledge Handbook on Management Information Systems (Routledge 2015); The Oxford Handbook of Management Information Systems (Oxford University Press, 2011); Strategic Information Management 4th edition (Routledge, 2009); Exploring Information Systems Research Approaches: Readings and Reflections (Routledge, 2007); Rethinking Management Information Systems (Oxford University Press, 1999), and IT and Organizational Transformation (Wiley, 1998). The Companion to the Routledge Handbook is to be published in 2017.

His research is transdisciplinary in nature, focusing primarily on organizational innovation/transformation and the associated management of change issues; the processes and practices of information systems strategizing; organizational knowing, and the intra- and extra-organizational impacts of information & communication technologies. He has supervised 27 PhD students to completion and his work has been cited over 10,000 times according to Google Scholar.
M K Stein, E Wagner, P Tierney, S Newell and R D Galliers (2019). "Datification and the Pursuit of Meaningfulness in Work", Journal of Management Studies, 56(3), 685-717.
Deng, X. (Nancy), Li, Y., Galliers, R. D. (2016). Business Analytics Education: A Latent Semantic Analysis of Skills, Knowledge and Abilities Required for Business versus Non-Business Graduates. Proceedings: 37th International Conference on Information Systems. Dublin, Ireland, December (best paper in track).
M Marabelli and R D Galliers (2016). "A Reflection on Information Systems Strategizing: The Role of Power and Everyday Practices", Information Systems Journal (forthcoming). DOI: 10.1111/isj.12110.
X (Nancy) Deng, K D Joshi and R D Galliers (2016). "The Duality of Empowerment and Marginalization in Microtask Crowdsourcing: Giving Voice to the Less Powerful through Value Sensitive Design", MIS Quarterly, 40(2), 279-302.
A. Karpovsky and R D Galliers (2015). "Aligning in Practice: From current cases to a new agenda", Journal of Information Technology, 30(2), 136-160. doi:10.1057/jit.2014.34

M. Stein, S. Newell, E. Wagner and R.D. Galliers (2015). "Coping with information technology: Mixed emotions, vacillation and non-conforming use patterns", MIS Quarterly, 39(2), 367-392

A. Shollo and R D Galliers (2015). "Towards an understanding of the role of business intelligence systems in organisational knowing", Information Systems Journal, 26(4), 339-367.