Latest news from Loughborough University
12 August 2011 | PR 11/97
Nike Football Academy starts the new season at a new home
A new group of young footballers have begun their journey with the Nike Academy in their quest to win a professional contract.
To fulfil Nike's requirements for the Academy to have a full time permanent base, Loughborough University has been selected as their new home for the 2011-12 season.
The Nike Academy is a professional football development programme that is run by Nike and supported by the Premier League. It has one aim - to help and support highly skilled and committed young footballers to reach their potential and make it as a professional.
The 22 players in the Academy are from across the UK, and for the first time are joined by international team mates from Belgium, France, South Africa, Ghana, Korea and Australia.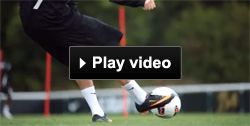 Loughborough was selected as the new full time home for the Academy, as it was able to match Nike's intentions to offer a football development experience that develops the individual's football abilities, alongside offering an appropriate educational programme.
Loughborough are also offering access to its world class sports facilities as well as conditioning and sport medicine provision, along with office desk space and support for the Academy staff and coaches.
Jimmy Gilligan, the current England u21 scout and former Watford striker, is the Nike Academy Head Coach and under his watch the squad will train six days a week at their new full-time base, making the most of the extensive sport facitilties on campus.
Jimmy is supported in his role as Head Coach by Director of Football Huw Jennings, the former Head of Youth Football at the Premier League and current Academy Director at Fulham F.C.
Jimmy Gilligan, the Nike Academy Head Coach, said:
"The Nike Academy provides young footballers with the opportunity to develop as players and showcase their talent.  The Nike Academy coaches and I are dedicated to providing these players with the best training programmes, best football networks and sporting facilities to help them realise their full potential.
Mike Foster, Director of Football at the Premier League, added:
"The Nike Academy is an excellent example of the growing partnership between the Premier League and Nike. We have worked together now for 11 seasons and over the last few years we have seen the Nike Academy develop into a first class facility for young talent to continue their careers in football."
Andy Borrie, Deputy Director of Sport at Loughborough University said:
"We are delighted to be supporting Nike with this exciting project, and welcome the Academy players to Loughborough. Not only will the players benefit from our fantastic training facilities, they will also be very much a part of the world class community of athletes that we have on our campus."
To date six Nike Academy graduates have won full time contracts to professional teams as result of playing in these games and training under the Nike Academy coaching team.
Ryan James, a former Nike Academy member and now an Oxford United player, said:
"The Nike Academy has given me the chance to prove myself and get signed by a professional team.  The coaching staff and set-up really helped me get a contract at Oxford United this season and I wish the current Nike Academy squad the best of luck for the coming months."
You can find out more about the Nike Academy and watch the players progress during the season by visiting www.nike.com/nikefootball or www.facebook.com/NikeAcademy
−ENDS−
For all media enquiries contact:
Rob Knott
PR Officer (Sport)
Loughborough University
T: 01509 228686
E: R.A.Knott@lboro.ac.uk
Notes for editors:
NIKE, Inc. based near Beaverton, Oregon, is the world's leading designer, marketer and distributor of authentic athletic footwear, apparel, equipment and accessories for a wide variety of sports and fitness activities. Wholly-owned Nike subsidiaries include Cole Haan, which designs, markets and distributes luxury shoes, handbags, accessories and coats; Converse Inc., which designs, markets and distributes athletic footwear, apparel and accessories; Hurley International LLC, which designs, markets and distributes action sports and youth lifestyle footwear, apparel and accessories; and Umbro Ltd., a leading United Kingdom-based global football (soccer) brand. For more information, visit www.nikebiz.com.


Loughborough is one of the country's leading universities, with an international reputation for research that matters, excellence in teaching, strong links with industry, and unrivalled achievement in sport and its underpinning academic disciplines.

It was awarded the coveted Sunday Times University of the Year 2008-09 title, and is consistently ranked in the top twenty of UK universities in national newspaper league tables. In the 2010 National Student Survey, Loughborough was voted one of the top universities in the UK, and has topped the Times Higher Education league for the UK's Best Student Experience every year since the poll's inception in 2006. In recognition of its contribution to the sector, the University has been awarded six Queen's Anniversary Prizes.

Loughborough is also the UK's premier university for sport. It has perhaps the best integrated sports development environment in the world and is home to some of the country's leading coaches, sports scientists and support staff. It also has the country's largest concentration of world-class training facilities across a wide range of sports.

It is a member of the 1994 Group of 19 leading research-intensive universities. The Group was established in 1994 to promote excellence in university research and teaching. Each member undertakes diverse and high-quality research, while ensuring excellent levels of teaching and student experience.