School staff
Professor Jamie Timmons
Professor of Systems Biology
Tel +44 (0)1509 226450
Email J.Timmons@lboro.ac.uk
Location HE.2.21
Profile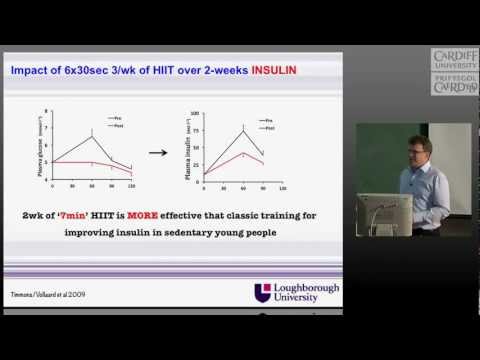 Professor Timmons has been filmed for BBC Breakfast talking about the health benefits of high-intensity exercise.
For further information please visit:
If you are interested in taking part in our research trials please contact Claire Mottram (C.Mottram@lboro.ac.uk) or Ben Kelly (B.Kelly@lboro.ac.uk).
Qualifications
Appointed Honorary Professor, Stockholm University (2007)
Appointed to Chair in Exercise Biology, Heriot-Watt University Edinburgh (2006)
Seven Years as a project leader in Pharmaceutical Drug Discovery (1997-2003)
Elected member of the British Physiological society (1998)
PhD Physiology and Pharmacology, University of Nottingham (1996)
BSc (Hons) Medical Intercalated, University of Glasgow (1993)
Background
James Timmons is Chair of Systems Biology and has a particular interest in exercise and skeletal and adipocyte cell biology.
Jamie has spent time in both academic (11yr) and industrial (8yr) research settings. During this time in academia he has published over 80 original articles, book chapters and patents including articles in J Clinical Investigation, FASEB Journal, Diabetes, Genome Medicine, J Applied Physiology, J Biological Chemistry and Proceedings of the National Academy of Sciences USA (the majority as first or senior author).
His work is currently featured in a BBC Horizon programme (2012) on the science behind physical activity and exercise.
Applying Systems Biology to a broad range of medical topics, his lab has generated a number of firsts in human physiology and metabolic research including the first genomic predictor of physiological adaptation in humans in 2010 and the discovery of the adipo-myocyte in 2006. Since returning to the UK in 2006 he has raised >£9M for medical research. Jamie's lab recently developed the first accurate multi-organ predictor of age in humans.
A graduate of the University of Glasgow in 1993, Jamie completed a PhD in muscle physiology and metabolism at the University of Nottingham in May 1996 during which time he was awarded the European Young Investigator of the Year 2006 by the European College for Sports Medicine and Science. He spent 8 years working within the Pharmaceutical industry as a Team Leader in Lead identification and Lead development projects and was involved with the nomination of drug candidates for the treatment of cardiovascular disease. In 1999, while at Pfizer, he started arguably one of the first "translational medicine" projects, which was aimed at better understanding human muscle diseases. A data-base of muscle phenotypes and gene-chip profiles (in collaboration with the Karolinska Institute and Affymetrix) has been built over the following decade and a number of predictors of clinical response has been generated.

In 2003 he moved to the Karolinska Institute, and worked at the Centre for Genomics and Bioinformatics as a team leader with Prof Claes Wahlestedt. Here he developed an interest in non-coding RNA molecules and linking gene regulation to physiological heterogeneity in humans. Since then he has studies both coding RNA and microRNA changes in the areas of muscle and adipocyte biology and discovered novel markers of tissue plasticity.

In 2006 he was appointed Chair of Exercise Biology and Director of the Sports and Exercise Degree Program, at Heriot-Watt University Edinburgh. While acting as Director of Research and over-seeing the RAE2008 Department of Biology return and the restructuring of the University Biology activities ( http://www.hw.ac.uk/reference/focus-on-the-future.pdf), Jamie expanded his translational medicine projects to cover diabetes, cancer-cachexia and develop novel approaches to studying human 'exercise resistance'.
In 2009 he was awarded the American College of Sports Medicine and European College of Sports Science Prize Exchange Lecture in Seattle and Olso.
Research
Research
Current Research Projects
Role - PI. FP7 4yr EU Project €6M (2012-2015) – "METAPREDICT". Molecular predictors of muscle insulin sensitivity interactions with physical-activity in middle-aged subjects. Project combines Systems Biology, Physiology, Metabolomics, DNA and RNA analysis to develop personalised medicine strategies. Establishing diagnostics that can predict the long term consequences of insulin resistance on muscle ageing is a key aim.
Role - PI. MRC 4yr project £1M (2012-2015) - "Systems biology approach to human muscle ageing". This involves analysis of both intervention data and cross-sectional data in collaboration with Karolinska Institute and University of Nottingham. Based on mRNA analysis my lab has produced the first robust classifier of muscle age in humans. The project will extend this work to include microRNA profiling and in vivo gene-therapy to study the regulation of the 39-gene ageing classifier. Further, we will profile muscle tissue and relate molecular profiles to 20yr patterns of change in muscle size and fitness.
Role - Co-PI. BBSRC £525K (2009-2012, Cannon & Timmons). "Targeting adipocyte cell fate". This project aims to discover the molecular mechanism which determine brown and white adipocyte cell fate. This obesity project combines non-coding RNA and murine adipocyte stem cell biology.
Role - Co-PI. Wyeth Translational Medicine Grant £900K (2008-2011, Fearon & Timmons). "Molecular biomarkers in Cancer cachexia". Affymetrix and miRNA profiling, miRNA cell biology and informatics analysis to discover novel biomarkers of cachexia and also improve our understanding of human cachexia.
Role - Co-I. Diabetes UK, £100K (2011-2013, Cleasby and Timmons). Role of microRNAs in muscle and fat during diet induced insulin resistance.
Research in text
Jamie's main research involves the use of gene chip technologies to study metabolic disease and tissue plasticity and cell differentiation. Rather than using gene chips to pick-out genes that might link to disease processes, Jamie's group have utilised gene chips to cross-compare different cellular states and muscle diseases with the aim of establishing common links between gene network regulation under seemingly diverse physiological states. Most recently, in collaboration with Medical Prognosis Institute (Denmark) and Pennington Biomedical Institute (USA), the group has applied molecular classifiers to discover genes which determine the capacity of the cardiovascular system to respond to exercise in humans (http://jap.physiology.org/content/108/6/1487.long).

The long term aim of the group is to generate novel approaches to tackling cardiovascular and metabolic disease. For example, as part of an international consortium Jamie is working to identify the reasons when ~20% of the population do not improve their aerobic or metabolic fitness in response to supervised exercise training.
In addition to this clinical translational research, the lab is building on their seminal discovery in 2007 (http://www.pnas.org/content/104/11/4401.long) to validate potential targets for turning white adipocytes into 'brites' (www.jbc.org/content/285/10/7153.full.pdf) an anti-obesity strategy that should, in theory, increase calorie consumption by increasing basal metabolic rate. The lab also produced the first data indicating that abnormal microRNA changes may underpin insulin resistance (http://genomemedicine.com/content/2/2/9) and work funded by Diabetes UK aims to follow up on this clinical data.
Postgraduate Supervision
Jamie currently supervises and trains post-doctoral scientists in the science of applying informatics methods to clinical and molecular projects.
Jamie currently supervises 2 postgraduate students:
There are currently 3 post-doctoral researchers working in Jamie's group:
Visiting Scientists
Enquiries
External activities
ERC Panel member (2010-2011)
Assistant Editor, BMC Systems Biology (2007-)
Assistant Editor, BMC Physiology (2006-)
Member, The British Biochemical Society (1998-)
Elected member of the British Physiological Society (1998-)
Editorial Member of Faculty1000 – Muscle and connective tissue section (2006-)
Jamie has been an expert reviewer for the ERC, BBSRC, MRC and many other medical charities.
Featured publications
Timmons JA, Baar, K, Davidsen, P and Atherton PJ. Irisin, an Exercise regulated gene? Nature, 1-2, 2012, In press.
Poulet B, Ulici V, Stone TC, Pead M, Gburcik V, Constantinou E, Palmer DB, Beier F, Timmons JA and AA Pitsillides. Time-series transcriptional profiling yields new perspectives on susceptibility to osteoarthritis. Arthritis and Rheumatism, 2012, In Press.
Gallagher IJ, Stephens NA, MacDonald AJ, Skipworth RJE, Husi H, Greig CA, Ross JA, Timmons JA, Fearon KCH. Suppression of skeletal muscle turnover in cancer cachexia: evidence from the transcriptome in sequential human muscle biopsies. In Press, Clinical Cancer Research 2012.
Timmons, JA. What happens if you ask the wrong questions? J Physiology 2012.
C Bouchard, T Rankinen and JA Timmons. Genomics, genetics and gene-exercise interactions in health and disease. The American Handbook of Physiology. Comprehensive Physiology. 2011.
2010-2011
Keller P, V Gburcik, N Petrovic, IJ Gallagher, J Nedergaard, B Cannon and JA Timmons. Gene-chip studies of adipogenesis-regulated microRNAs in mouse primary adipocytes and human obesity.BMC Endocrine Disorders. Mar 22;11:7 2011.
Keller P, Vollaard N, Gustafsson T, Gallagher IJ, Sundberg CJ, Rankinen T, Britton S, Bouchard C, Koch L, and Timmons JA. A transcriptional map of the impact of endurance exercise training on skeletal muscle phenotype. J Applied Physiology. 2011 Jan;110(1):46-59. [cited 14 times]
Davidsen P, Gallagher IJ, Hartman J, Tarnopolsky M, Dela F, Helge J, Timmons JA, and S Phillips. The impact of resistance exercise training on skeletal muscle microRNA expression. J Applied Physiology. 2011 Feb;110(2):309-17. [cited 8 times]
Gallagher IJ, Scheele C, Keller P, Nielsen AR, Remenyi J, Fischer CP, Roder K, Babraj J, Wahlestedt C, Hutvagner G and Timmons JA. Integration of microRNA changes in vivo identifies novel molecular features of muscle insulin resistance in type 2 diabetes. Genome Medicine, 2010 2:9. [cited 31 times]
Timmons JA, Knudsen S, Rankinen T, Koch LG, Sarzynski MA, Jensen T, Keller P, Scheele C, Vollaard NB, Nielsen S, Akerström T, Macdougald OA, Jansson E, Greenhaff PL, Tarnopolsky MA, van Loon LJ, Sundberg CJ, Wahlestedt C, Britton SL, Bouchard C. Discovery and validation of a molecular signature that predicts gains in human maximal aerobic capacity. J Applied Physiology 2010. [cited 34 times]
Stephens NA, Gallagher IJ, Rooyackers O, Skipworth RJ, Tan BH, Marstrand T, Ross JA, Guttridge DC, Lundell L, Fearon KC, Timmons JA. Using transcriptomics to identify and validate novel biomarkers of human skeletal muscle cancer cachexia. Genome Medicine, 2010 2:1. [cited 10 times]
Petrovic N, Walden TB, Shabalina IG, Timmons JA, Cannon B, Nedergaard J. Chronic PPARγ Activation of Epididymally Derived White Adipocyte Cultures Reveals a Population of Thermogenically Competent, UCP1-containing Adipocytes Molecularly Distinct From Classical Brown Adipocytes. J Biol Chem. 2010 Mar 5;285(10):7153-64.[cited 56 times]
2007-2009
Babraj JA, Vollaard NBJ, Keast C, Guppy F, Cottrel G, and Timmons JA. Extremely low volume cycle interval training substantially enhances insulin action in healthy volunteers. BMC Endocrine Disorders, 2009 28;9:3. [cited 42 times]
Timmons, JA. The importance of brown adipose tissue. New England Journal of Medicine. Jul 23;361(4):415-6, 2009. [cited 11 times]
Petrovic N, Irina G. Shabalina, Timmons JA, Cannon B, Nedergaard J: Thermogenically Competent Non-Adrenergic Recruitment in Brown Predipocytes by a PPARγ Agonist. Am J Physiol Endocrinol Metab. 2008 Aug;295(2):E287-96. [cited 32 times]
Timmons, JA, Wennmalm, K., Larsson, O., Walden, TB, Lassmann, T., Petrovic, N, D Lee Hamilton, Gimeno, RE, Wahlestedt, C, Baar, K, Nedergaard, J. and Cannon, B. A myogenic gene expression signature establishes that brown and white adipocytes originate from distinct cell lineages. Proc Natl Acad Sci U S A. 2007 Mar 13;104(11):4401-6. [cited 151 times]
You can view a fuller publications list on the University Publications Database.