School staff
Dr Matthew Pain
Reader in Biomechanics
Tel +44 (0)1509 226327
Email M.T.G.Pain@lboro.ac.uk
Location UU.1.07
Profile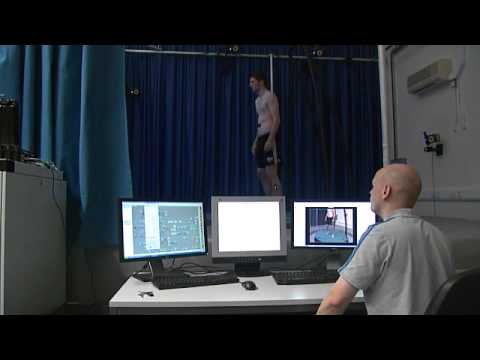 Dr Matt Pain talks about his research
After completing his degree in Physics with Astrophysics at Leicester University, Matt obtained an MSc in Applied Geophysics from Birmingham University. He then started in the Biomechanics Lab at Birmingham University before moving to carry on his postgraduate studies in biomechanics at Penn State University in the USA where he graduated with a PhD in 1999.
Matt's research has led to him being involved with a dozen television and radio programmes, including the Royal Institute Christmas Lectures and BBC's Horizon, and presenting his work at the Science Museum.
Matt's sporting interests are the martial arts in which he has been training for 30 years.
Research
Research and Teaching Interests
Matt's research interests are in soft tissue motion during impacts, human impacts in general, maximal voluntary muscular actions and neural control. These are all fundamental areas underlying performance and injury mechanisms in martial arts or contact/combat sports. Matt is also interested in the biomechanics of neuro-muscular performance in dynamic events such as jumping, sprint starts, weightlifting or anything that relies on large and rapid power production.
A Senior Lecturer in the School, he is currently Programme Director for the Sport and Exercise Science degree, module leader for Advanced Methods of Analysis in Sports Biomechanics, Experimental Sports Biomechanics, Current Research in Sports Biomechanics and teaches on; Year 1 Sports Biomechanics, Sports Biomechanics for Coaches and Motor Control of Sports Movements.
PhD Students Supervised and Projects
Graduated PhD Students
C. Mills - "Computer simulation of gymnastics vault landings", 2005.
A. Roosen - "Skill reproduction in a reduced time frame by martial athletes", 2007.
V. Neville - "Physiological demands of America's Cup racing", 2009.
F. Tsui - "Determining human impact intensity during contact sports", 2011.
D. Jessop - "Computer Simulation of the sprint start", 2011.
N. Tillin - "Knee extensor muscle function", 2011.
Current PhD Students:
I. Perez - "Analysis of soft tissue motion during impacts".
Y. Gu - "Limitations to synchronization and timing of coordinated movements in sport".
G. Blenkinsop - "Learning to balance, its control, and response to visual and proprioceptive stimuli".
P. Evangelidis - "Neuromuscular function of the quadriceps and hamstrings"
M. Kirkland - "Neuromuscular adaptations to eccentric loading".
External activities
Reviewing
Engineering and Physical Sciences Research Council.
International Program Committee, International Association of Science and Technology for Development.
Scientific Review committee, XXII Congress of the International Society of Biomechanics.
Reviewer for a over a dozen journals including:
Journal of Biomechanics
Journal of Theoretical Biology
Journal of Applied Biomechanics
Journal of Sports Sciences
Gait and Posture
Aerospace Science and Technology
Other
Research for the Forensic Science Service, police authorities and expert witness for the Crown Prosecution Service. This has included work on cases resulting in national newspaper headlines and a BBC documentary.
External PhD examiner
Provided Consultancy and Sports Science support to a dozen sports
Selected Invited Conference Speaker Presentations:
2009 "In vivo limitations to maximal neuro-muscular function of the quadriceps". The Mayo Clinic, Rochester, USA.
2009 "Total Control! Martial Arts and Science: Impacts." The Science Museum, London, UK.
2007 "Optimising landing strategies to minimise injury risk during gymnastics landings." 21st Congress of the International Society of Biomechanics, Taipei.
2007 "Optimising landing strategies to minimise injury risk during gymnastics landings." Mathematics in Sport, Salford.
2006 "The use of wavelet analysis to determine the effects of fibre length and shortening velocity on the signal content of EMG." The Biomechanics Lab. The Pennsylvania State University.
2005 "Optimizing Impacts" Annual Conference of the British Association of Sport and Exercise Sciences, Loughborough University.
Selected Recent Research Projects and Sources of Funding:
2009 - US$100,00 Private charity: Bruxism: splint design and its effect on the proclivity to brux .
2007 - £52,000 The British Society of Occlusal Studies and a private charity: An anthropological model of occlusion and towards an understanding of dynamic oral health.
2006 - £1.2M EPSRC: Tailored Injury Prevention & Performance Improvement for Protective Sports Garments. (with Loughborough University Engineering Department).
Featured publications
Forrester, S.E., Yeadon, M.R., King, M.A., and Pain, M.T.G. Comparing different approaches for determining joint torque parameters from isovelocity dynamometer measurements DOI: 10.1016/j.jbiomech.2010.11.024
Yeadon, M.R., King, M.A., Forrester, S.E., Caldwell G.E., and Pain, M.T.G., 2010. The need for muscle co-contraction prior to a landing. Journal of Biomechanics, 43, 364-369.
Pain, M.T.G., and Forrester, S.E., 2009. Predicting maximum eccentric strength from surface EMG measurements. Journal of Biomechanics, 42, 1598-1603.
Pain, M.T.G., Tsui, F., and Cove. S., "In vivo determination of the effect of shoulder pads on tackling forces in rugby", Journal of Sports Sciences, 26 (8), 2008, 75 – 82.
Pain, M.T.G. and Hibbs, A., "Sprint starts and the minimum auditory reaction time", Journal of Sports Sciences, 25 (1), 2007, 79 – 86.
Pain, M.T.G. and Challis, J.H., "The influence of soft tissue movement on ground reaction forces, joint torques and joint reaction forces in drop landings ", Journal of Biomechanics, 39 (1), 2006, 119-124.
You can view a fuller publications list on the University Publications Database.