Staff
Dr Simone Natale BA, MA, PhD University of Turin, Postdoc Columbia University and University of Cologne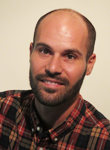 Lecturer in Communication and Media Studies.
+44 (0)1509 223380
Brockington Extension U3:11
Simone joined the department in 2015. His main areas of interest are media history, digital media, film and visual studies. He completed his Ph.D. in Communication Studies at the University of Turin, Italy, in 2011, and has researched and taught in numerous international institutions, including Columbia University in New York, USA, Humboldt University Berlin and the University of Cologne in Germany, and Concordia University in Montreal, Canada. He is the author of a monograph, "Supernatural Entertainments: Victorian Spiritualism and the Rise of Modern Media Culture" (Pennsylvania State University Press, 2016), and of articles published in numerous peer-reviewed journals, including the Jounral of Communication, New Media & Society, Communication Theory, Media, Culture & Society, and Media History. He was awarded research fellowships by world-leading institutions such as the Humboldt Foundation and Columbia University's Italian Academy.
Simone has written on the relationship between media and the imagination, on digital media and culture, and on media archaeology. His research reminds us that media are not only machines, artifacts, and social systems, but also imaginary and cultural constructions that contribute to shape our understanding of broader cultural issues, and create new ways to narrate and make sense of the transformations experienced in our society and everyday life.
His book "Supernatural Entertainments: Victorian Spiritualism and the Rise of Modern Media Culture" (Pennsylvania State University Press, 2016) argues that the emergence of new forms of beliefs in spirits since the middle nineteenth century was closely related to the rise of the media entertainment media industry. Drawing from extensive archival research, the book provides an archaeology of how the supernatural entered into the core of contemporary media culture.
Simone is also interested in how digital media are imagined and represented, and how this informs how they are used and inserted into our everyday experience and life. He has written on the connections between new media and particular visions of the future, on the rhetorical use in political communication of the myth of the Web as harbinger of democracy and free speech, and on how particular narratives about digital media influence our interaction with them. His publications on these topics have appeared in top-ranked journals such as New Media & Society and Media, Culture & Society.
Simone teaches primarily in the areas of digital media, media theory and history, film, and cultural studies.
He is epecially interested to supervise postgraduate students in the following areas: media history, new media studies, history of digital media.