Our staff
Dr Patrick Stacey BSc (Hons), MRes, PhD (Bath)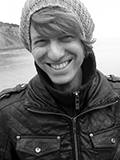 Senior Lecturer in Information Management
+44 (0)1509 228351
BE.1.31b (Sir Richard Morris Building)
Dr Patrick Stacey is a Senior Lecturer of Information Systems/Management at Loughborough University. He joins via Lancaster University and Imperial College. His expertise lies in managing games development and designing positive environments for creativity and cancer care. His current research focuses on emotion in information systems.
Over the course of his 20-year twin-track career he has won a number of prestigious industrial and academic prizes, fellowships and scholarships from institutions such as the Association for Computing Machinery (ACM), Imperial College London and the National Computer Board of Singapore. His academic research on systems development processes in the sectors of computer games and healthcare have been published in 'A' journals.
Emotion in Information Systems, Design and Development
Computer Games Development
Cancer Care
Senior Editor of IT & People journal
Associate Editor of ECIS
Co-chair of mini-track "Negative Cognitions Due to IS Use" for Americas Conference on Information Systems (AMCIS)
Kershaw, D., Stacey, P., and Rowe, M. (2016) "Towards modelling language innovation acceptance in online social networks", ACM International Conference on Web Search and Data Mining.
Stacey, P. & Tether, B. (2015) "Designing emotion-centred product service systems: The case of a cancer care facility", Design Studies (2015)
Stacey, P., and Nandhakumar, J. (2009) "A Temporal Perspective of the Computer Game Development Process", Information Systems Journal, Vol 19, p479-497.
Brown, AD, Stacey, P., and Nandhakumar, J. (2008) "Making Sense of Sensemaking Narratives", Human Relations, Vol: 61, Pages: 1035 – 1062
Stacey, P., and Nandhakumar, J. (2008) "Opening Up to Agile Games Development". Communications of the ACM, Volume 51 , Issue 12 (December).